Now, you can have these same powerful techniques in a simple, easy to follow tele-class.
Feel relaxed & confident in any business or social setting
Maximize your potential and eliminate self sabotage
Feel relief from the burden of gripping fear and anxiety
Safe - No pills, no ongoing classes, no role-playing
Fast, easy and confidential, in the privacy of your own home
Very high, over 90%, success rate – demonstrated on radio & TV
If you don't act to eliminate your fears, you are limiting yourself.
If You Suffer From Anxiety and avoid social situations:
Consider the True Cost …
If you are in business or work for a living, the cost is incalculable. Missed money-making opportunities. Passed over for promotion or lost jobs. This could cost you tens, even hundreds of thousands of dollars over your career. Performance fears could even cause you to miss the opportunity to meet a new friend or the love of your life..
Hi Joanne,

I just want to follow up with you regarding the performance anxiety class last week and the session we did on the phone before I presented my power point presentation in class that night. After I presented, the Professor said "Brilliant!"" I just received my grade - 100% - she said I got the highest grade in the class. YAY for Thought Field Therapy and YOU! I was not nervous at all during the presentation.

Thank you so much!

Now's The Time To Take Action!
For the investment of a light business lunch, you can have the tools to move yourself forward, without fear, stress or anxiety in your professional and personal life.

Move fearlessly forward in today's turbulent economy.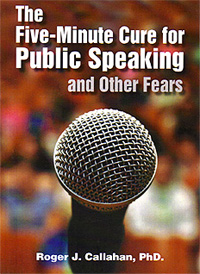 As part of this class you'll also receive a downloadable class handout and workbook which include:
TFT Algorithm Chart
Guide to creating your own Personal Tapping Sequence
TFT Food and Mood Journal
The Pulse Test by Arthur Coca
Resource List
PLUS, you get the downloadable version of Roger
Callahan's book The Five-Minute Cure for Public Speaking.

Special Attendee Bonus: 
The Fast Track to an Awakened Mind

Complete audio-class and manual – achieve mastery and perform in the zone with TFT and high-tech meditation.